10 Songs That Inspired Coast Modern's Debut Album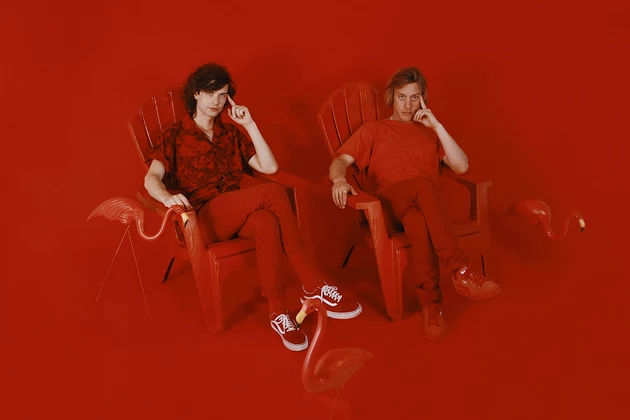 The summer may be ending, but there are many ways to keep that holiday sun in your life: Coast Modern (singer Coleman Trapp and guitarist Luke Atlas) and their self-titled debut album can help you remedy the impending autumn and winter blues.
After wooing fans like Kate Hudson with the California pop band's tropical tune "Guru" in 2016, Trapp sill enjoys the fun single. "I still love 'Guru,'" he shares. "It's such a simple song with a good flow, and I think those are the best songs."
We had the chance to learn what was on Trapp and Atlas' playlist while they were making the record. Find out which tracks helped make Coast Modern's new album a reality, below.
Subscribe to Rewind 105.7 on
"Mambo Sun," T. Rex
"No artist drips with more pure liquid cool than T. Rex. Groovy and crunchy beats with sexy nursery rhyme lyrics. At one point our song Guru had the line 'she's a diamond halo priestess,' which is a clear nod to T. Rex's lyrics. The solo in 'Animals' is also tapped from a similar source."
Subscribe to Rewind 105.7 on
"WOW," Beck
"This song is such a creamsicle dreamscape. Mixing the alt-guy coolness and angular lyrics of Beck with super shiny modern synths and beefy bass is such a fresh combo and one that really tickled our ticklers."
Subscribe to Rewind 105.7 on
"Ohio," LA Priest
"Probably one of our collective favorite recent albums ever, LA Priest makes tunes that sound like they were recorded in a bubbling jacuzzi. Wild homemade synths swell and squirm and song structures snake all over the place. It's fresh and exciting while sounding like something you found in a pile of floppy discs. We're always looking for that new sound that still hugs you like an old friend."
Subscribe to Rewind 105.7 on
"Passin' Me By," The Pharcyde
"I used to listen to this song on a burned CD while walking the halls of my middle school. Some of the '90s hip-hop drum feel has definitely infiltrated the album, most clearly seen in 'Tiny Umbrella.'"
Subscribe to Rewind 105.7 on
"If I Was Your Girlfriend," Prince
"How do you even write about Prince? A lot of artists we like are more spiritual guides than straight sonic influences. We might not sound a lot like Prince but his willingness to experiment and let his true inner freak out is a huge inspiration. This is from the '80s and he's pitch-changing his voice, using samples, drum machines and talking about reverse gender roles. Future."
Subscribe to Rewind 105.7 on
"I'm The Man, That Will Find You," Connan Mockasin
"There was a season where we showed this song to everyone we knew. It's the sound of a dimly-lit steam room. The slightly creepy lyrics, floaty melody and 10/4 time signature make this piece incredibly hypnotic, if not a little unsettling."
Subscribe to Rewind 105.7 on
"Mother Protect," -Niki & The Dove
"There are some strong Fleetwood Mac vibes here. This production is screaming and whispering at the same time. The songwriting has the sheen of any great Northern European pop track, but with bold angular turns, like when the song modulates into the crescendo. We played with M. Night Shyamalan twists a ton on the album."
Subscribe to Rewind 105.7 on
"Hotline Bling," Drake
"Sometimes all you need is a super simple concept over a really hooky loop. We realized pop music can be so clean around the time we made 'Guru.' Also playing with lyrics hooks like, 'I know when that hotline bling' or 'baby be my guru' that don't mean a ton in plain English but sound great in the track."
Subscribe to Rewind 105.7 on
"Too Many People," Paul McCartney
"This tune kicks off one of my favorite albums ever, Sir Paul's RAM, released soon after The Beatles broke up. It sounds like Paul is just having a blast being on his own and doing whatever the hell he wants. Linda McCartney sings on most of these songs in a delightfully scrappy style too. There's so much raw enthusiasm on display it's contagious. The whole album is a journey that must be experienced."
Subscribe to Rewind 105.7 on
"Caroline," Aminé
"This dude is part of the new wave of hip hop that's really exciting us. Unlike most indie rock, there's no precious attitude toward the early masters of the genre, so these guys feel free to get weird and come up with some very fun, future jams."
The Best Albums of 2017 (So Far!):

Source:
10 Songs That Inspired Coast Modern's Debut Album